28 Aug

The Return of The Pawnbroker

 "One day a lady put her head around door and said, 'I promised to take the kids to the cinema, please loan us the money'. I refused and she called me all the names under the sun,".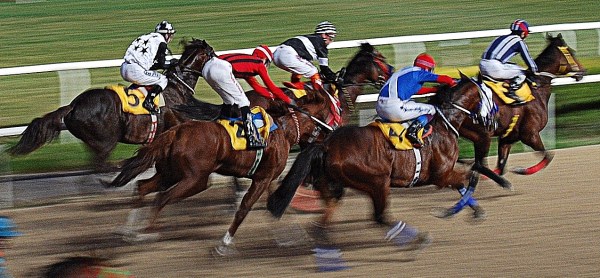 "The next morning she turned up again and said, 'Thanks Guys, the horse lost'. We know our customers in a way banks just don't."
back in the 1950s, the pawnbroking industry was quietly dying. Now we are seeing it grow at its fastest rate in more than a century, "The Fall and Rise of The Pawnbroker".
"Since the Second World War, if you wanted money, you went to the bank,"- and that's not so easy to do anymore especially with stringent lending criteria and government legislation. The choices available to people have had to change." Now there are Payday Lenders, Pier to Pier Lenders, Finance Companies", online lenders where you don't even interact with a person "I mean whats that all about" but none of them and I mean none of them can compare to a Pawnbroker for speed & Convenience.
Lines of credit
Pawnbroking is the growth story of the credit crunch. There are no credit checks, little paperwork, no awkward questions, and the cash is available straight away, and unlike Banks and Finance companies, Pawnbrokers don't charge application fees, late payment fees or any other kind of fees, and unlike other lenders, you have no obligation to pay them back!!….yep you read that right, and just in case you thought you misread,  "Your under no obligation to pay a Pawnbroker back!"  try telling other lenders that you don't want to pay them back – Good luck with that one!
Pawnbrokers loans are called a pledge or an advance and it attracts monthly interest which can vary from Pawnbroker to Pawnbroker with some Pawnbrokers  rates being as low as 3 – 9.95%  a month. (Shop around ) a pawnbroker pledge can be sometimes cheaper than an unauthorised overdraft. If the pledge is not paid back (Redeemed) on time, the pawned item can be sold  to help cover the debt, but the best bit again is "that if there is a surplus on the sale, the surplus goes back to you!" but most Pawnbrokers will work with you to get your item back.
The size of the industry has risen, Pawnbrokers have had strong economic winds blowing in their favour – falling incomes, vacant shop space and the decision by many banks to back away from the riskier end of the personal and business lending.
"Banks wouldn't even look at me. They would definitely say no," says Maria Jones. The young mother-of-three who is redeeming her necklace at,  a small family-owned pawnbrokers in Wellington.
"You have to make sure you have a well-paid job to get credit these days and being a stay at home mum  with no personal income doesn't help. That's why I come in here and get money."
Like many of the customers, Maria says she pawns her jewellery for different things from spending money for holidays to paying unexpected bills to car repairs .
"I don't have another option, apart from the family," she says. "If my mum has got the money, she will lend it to us, but we don't want to depend on her for things." and also we don't want other people knowing my business.
Long history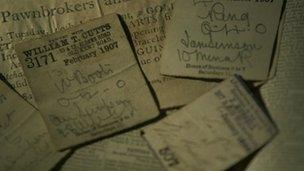 You have to go back a long way to find the last time pawnbrokers played a major role in British life. At the end of the 19th Century there were more than 700 in London alone.
The local pawnbroker's shop, or "uncle" in Victorian slang, would lend against almost anything from gold rings to clothing, blankets and boots.
"Pawnbrokers gave some freedom to working people in the late Victorian period," says Alex Werner, Head of History Collections at the Museum of London. "When they didn't need their best clothes, pawning allowed them to buy food for the family until the weekend. Then they would get paid and could have their jacket back. It was like a support network."
But the industry almost died out after World War I as incomes increased, banks offered new forms of credit and the welfare state was created.
Taking on the banks
The industry's resurgence started in the late 1980s as regulations were relaxed and larger pawnbroking chains started to emerge.
Many now offer other forms of financial services from  gold buying and money exchange.
Modern stores with their well-lit counters are designed to look less like a Victorian money lender, some even operate out of plush offices acting as private banks with modern paintings on the walls, and discreet and private valuation rooms.
Pawnbrokers say the new look is started to attract a new type of customer.
"The middle classes are now using Pawnbrokers in a way that has never happened before, Ten years ago, pawnbroking was hidden away down the side of the shop. Now it is right there on the main street, next to the banks, and in offices mixing with Lawyers, Accountants and other professionals.
'High Value Pawnbrokers'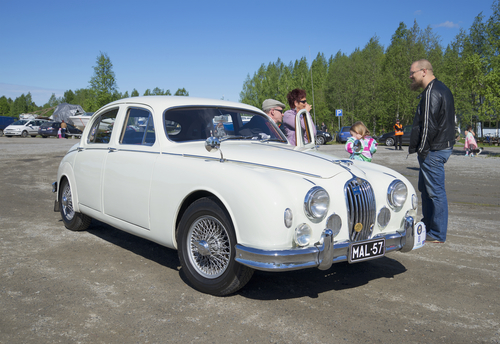 At the very top end of the market is a new type of pawnbroker. These"High Value" Pawnbrokers take the same business model and apply it to rare, high value items from Jewellery, Designer handbags and watches to sports cars. These types of Pawnbroker have loaned against everything from boats, planes and helicopters to a Picasso and a Lowry.
These Pawnbrokers not only lend just to individuals but to companies struggling or looking to expand, Businessman Mark Landsberg, handed over the keys to his Porsche 911 to pay a looming tax bill due in the New Year "You just can't get a bank loan for a couple of months," he says, "the Banks just don't have that personal relationship anymore.""Nowadays it feels like you can't get money out of a bank for a business unless it's made of solid gold." 'Banks will loan you money if you can prove you don't need it"
The Pawnbroker has returned, with more and more people from all walks of life turning to them, for ease, speed and convenience and the personal relationship.
We here at Premier see ourselves as a private bank, we get to hear of all the success stories of people we have helped in business and the stories of how we have helped someone out of a financial pickle, we are Pawnbrokers and we can"t get away from that, but we like to call ourselves collateral lenders. we are "The Place To Go -When The Bank's Said No"