Fine Jewellery: The Collateral In Your Cupboard?
Fine jewellery has the ability to brighten up our lives. It makes us feel confident and is a sheer joy to admire. However, if you are in need of funds and possess jewellery that tends to stay locked away in a box, You might want to consider taking out a loan against the value of your pieces with the Premier Pawnbroker.
Taking out a pawn loan is quite simple:
• Bring your jewellery to Premier Pawnbroker
• Allow our team of experts to assess the value of your piece
• Receive a same-day loan based on the market value of your piece
• Reclaim your jewelry after all loan repayments have been completed
Upon repayment of your loan, you can redeem your jewellery – it's a great way to access funds when you need them the most. Of course, it helps to have an understanding of just how valuable your necklaces, rings, bracelets, and cufflinks are before pawning – but what should you be looking out for?
Desirability
Jewellery making is a craft which requires incredible skill and a keen eye for detail – both in the design and manufacturing processes. Creators require great patience when working with precious metals, fancy color diamonds, 13th-century emeralds, and other gemstones. Renowned jewelers are held in high regard in much the same way that the work and prestige of an artist informs the value of fine art.
Some of the biggest names in jewellery include Cartier, Graff, and Tiffany, These companies are well-respected and produce intricate jewellery that can sell for thousands. That's not to say small-name pieces can't command a large price tag too – historic pieces are often highly desired, particularly if there is an interesting backstory behind them.
If you have jewelry, old or new, that you believe to be of significant value, it's important to check the piece and its case/box for brandings. Even if you're unfamiliar with the brand, a cursory internet search should help provide you with an idea of the collection or its designer before you come to visit Premier for an appraisal.
Material quality is important
The term jewellery is derived from an old term for precious gemstones. It should, therefore, come as no surprise that the value of most pieces of fine jewellery is dictated largely by materials they are constructed from. However, it's important to understand that second-tier jewellery is often manufactured from materials that emulate the appearance of precious stones and metals. Cubic zirconia, gold flake, and plated silver can be misleading as although they might appear to be as attractive as gold, diamonds, and silver, they are only worth a fraction of the cost.
The weight and texture of a piece should give you an initial idea as to whether your jewellery is genuine. Plated pieces will generally feel lighter than precious metals, and fake pearls will feel unnaturally smooth. However, if you are certain that your jewellery is constructed from authentic platinum, silver or gold, it's crucial to verify its authenticity. Thankfully, it's relatively easy to find out – the piece itself should hold some all-important visual cues.
Items manufactured from genuine gold will generally be hallmarked. Look for a small symbol that has been stamped into the metal. This hallmark will provide you with all manner of information. Hallmarks feature different text and icons that will help you to uncover the manufacturer, the date it was made and how many carats the item is.
Most precious stones and metals will bear some sort of mark of authenticity. You don't necessarily have to understand what each hallmark means, as it's something our staff at Premier can do for you – although a quick check will help you to estimate whether your piece is valuable.
Proof of authenticity
Proof of authenticity, or provenance, can help your piece command a higher price tag. Information on where it was purchased and whether it has ever been altered can all affect the price. If an item is rare or part of a limited collection, possessing the relevant certificates or documentation could help to increase the amount of money you could Loan against it.
If you have documentation, such as a certificate of authenticity, you are advised to bring it to Premier as this will speed up the loan process.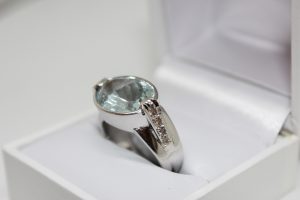 How much does fine jewellery sell for at auction?
The condition and history of a piece will generally inform how much a piece of jewellery will sell for at auction. Renowned pieces with old cut diamonds, pink diamonds, diamond studs and/or GIA certified diamonds can sell for tens of thousands of dollars. For particularly rare pieces, the sky is the limit. Some of the highest sums commanded by jewellery pieces at auction include:
1) Oppenheimer Blue Diamond Ring
This stunning ring set a new record for jewelry sold at auction back in 2016. The piece sold for $57.7 million. When the final figure was announced, the auction room erupted into applause. The ring is named after its previous owner, Sir Philip Oppenheimer. At 14.62 carats, the blue diamond adorning the ring is the largest to ever appear at auction.
2) Unique Pink Diamond
The "unique pink" is a pear-shaped diamond set onto a platinum band. Pink diamonds are incredibly rare, accounting for less than 5% of all colored diamonds, which explains why this piece commanded a price tag of $31.56 million. The value of pink diamonds has risen by more than 350% in just ten years.
3) Sunrise Ruby Ring
Weighing in at a staggering 25.59 carats, the Sunrise Ruby ring proves that it's not just diamonds fetching huge sums at auction. This piece sold for $30.3 million back in 2017. The huge ruby is flanked by white diamonds on both sides, and set into a Cartier ring. It takes its name from a 13th century poem.
4) Cartier La Peregrina Necklace
Jewellery with an interesting backstory can command a high price. This piece was owned by Elizabeth Taylor, one of the most glamorous ladies of the silver screen. Her love of jewellery is well-documented, and this Cartier piece of hers sold for nearly $12 million – almost four times its pre-sale estimate.
Allow the experts at Premier to value your items and unlock funds today
When you visit Premier Pawnbrokers with jewellery that you wish to secure a loan against, our team of experts will provide you with a complimentary Appraisal, and estimate its current market value.
From here, we will work with you to arrange a great-value loan against the worth of your fine jewellery – the majority of people who pawn their precious pieces have every intention of redeeming them after the loan is repaid, which is why we treat all items that come into the store with complete respect and ensure maximum security measures are put in place to protect them.
For more information on how to secure funds against your fine jewellery, simply contact a member of our friendly and experienced pawnbroking team today.
If you are looking to Sell Your Diamonds or jewellery then we will also buy your pieces! Read more about the type of diamonds and some of the few brands we buy or loan against
HERE.
Check out
How We Work
and see if we can help you with your funds in need.