14 Feb

Little Known Rolex Facts

ROLEX WATCHES

are brought into Premier Pawnbrokers on a regular basis.  As the largest single luxury watch brand in the world. The Rolex is admired by its fans for impeccable craftsmanship and quality movements.

The company has made a name for itself by setting high standards and continually innovating its style.

While the Rolex name is known worldwide, there are a few facts that even the most avid collector may not know.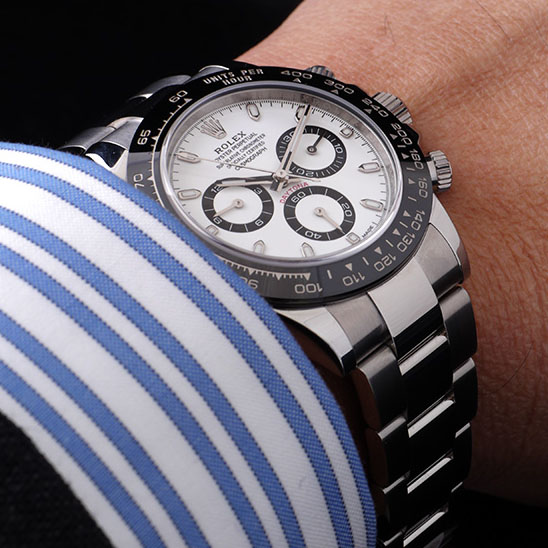 Rolex gold and platinum is all made in-house.
Rolex has a foundry that creates its 18 karat yellow, white and rose gold.
Their version of 18k rose gold is called Everose, which they created to stand the test of time and not fade.
Rolex is the only watch manufacturer that has a in-house foundry and creates their own gold.
All Rolex crystals made after 2001, except for the green Milgauss, has an etched crown on the crystal.
As part of their anti-counterfeit program Rolex has started etching their logo into their crystals.
It's extremely small and can be difficult to find with the naked eye.
Premier Pawnbrokers have the experience to quickly spot the tiny mark to ensure authenticity.
Each watch takes about a year to make.
Movements are always hand tested and (mostly) hand-assembled. This speaks to their commitment to quality. For a company that manufactures about a million watches a year, this is a long, but efficient process.
The symbols on the crown of the watch actually mean something.
Depending on the water resistance of the watch, either twinlock or triplock, the dots or dashes underneath their logo identify the watch. A triplock stainless steel Daytona for instance, will have three dots underneath their iconic logo.
The Rolex watchmakers have created some of the finest watches to ever hit the market, including the Datejust, GMT Master, Submariner, and Yacht-master. Premier works with all Rolex models and is happy to discuss a loan on your Rolex Watch.  Please contact info@premierpawnbrokers.co.nz  for more information.