02 Oct

Ever been to a Pawnbrokers ?

You can't use an expensive oil painting as a doorstop!'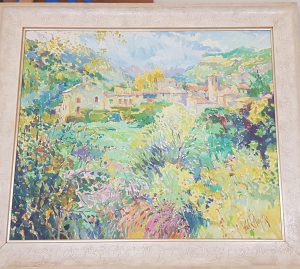 The Paul Riley Oil Painting even though is heavily wrapped, is to close to the meeting-room doorway.
Kevin Garner, MD of Premier, a very modern incarnation of one of the oldest professions in the world, directs one of his staff to quickly move it to safety.
Valued around $3,700, it's just one of the assets Premier use to secure loans.
The meeting room has seen many riches, from objets d'art,  golden trinkets, including Watches by Rolex, Audemars Piguet, Art from artists such as Donald McIntyre, Paul Riley.
While high streets swell with Pawn brokers offering loans on Xboxes and work tools, it is Business's  at the upper end of the market like Premier that are experiencing the biggest expansion in business; making money available to middle-class families, investors and business owners who have seen loans dry up in the last credit crunch and turned to pawnbrokers to fund everything from school fees to company wage bills.
Launched in 2012, Premier prefers to be called a 'high-end asset lender'.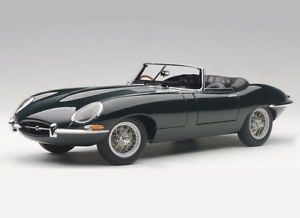 1962 E-Type Jag: Valuation – $250,000; Loan Requested – $100,000
Once your item is valued, Premier is able to arrange loans from $100 to $100,000 in a matter of minutes or hours (up to 60 per cent of the asset's trade value).
Terms of the loan will include a fixed interest rate,  which commonly runs over a 3 month period.
If the loan isn't redeemed,  the lender can legally recoup its losses by selling the goods, though any profit made from the sale above the initial loan of the item must be returned to you by law.
Kevin says that Premier is filling a gap left by banks, which he claims have simply stopped lending.
Although 75 per cent of loans are for amounts between $500 and $8,000, much of Premier's business is conducted with affluent clientele made up of , entrepreneurs and small-to medium-sized business owners needing between $8,000 and $100,000 to complete business deals.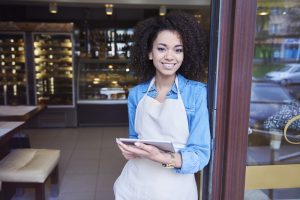 People often associate the types of lending we do with distress situations but that isn't the case… 62 per cent of our customers are small business owners using us to provide working capital.'
One such businessman  John from Wellington, who used his collection of Gold Coins to help fund expansion:
'I had actually considered selling them, so I'd already got a quote from an auction house when I heard about asset-backed lending.'
John explains that he approached Premier on a friend's recommendation.
and Based on the collection's combined value of $10,000, he was able to borrow $6,000.
'I felt more comfortable borrowing because I did want to keep the coins.
'I've just had to extend the loan, so I'm paying back the interest, but to me it's still better than having to sell them,' he adds.
OUR CLIENTS ARE FROM ALL WALKS OF LIFE
We are seeing clients who have been turned down by the banks who are unwilling or unable  to offer loans, overdrafts.
Premier lends mostly against gold, watches and jewellery.
Example, we loaned $10,000 on a 303 gm  gold bar,  $3,000 on a stamp collection and $5,000 on a Harley Davidson.
Because the variety of items extends beyond the usual pawnbroker fare of watches and trinkets,
Premier use a team of valuers from leading auction houses, including Dunbar Sloane NZ, along with international valuers.
They have to be able to price up assets from Rolex's to fine art and beyond.
'Kevin explains that it can lend more against watches and jewellery because they are easier to dispose of in the event of a default.
Art, and collectibles are a trickier prospect to loan on, prices are subject to greater volatility and sale opportunities are less frequent. Thus the amount loaned on these items might fall to 50 per cent or lower.
'For people who don't want to get rid of their asset, and might require the same liquidity again in a short period of time, using Premier is actually a very smart thing to do.'
The image of pawnbroking has been frozen in the public imagination since Charles Dickens called the shops 'receptacles for misery and distress'.
But even in his day there were also high-end pawnbrokers who offered financial services to the cannier, better educated upper classes.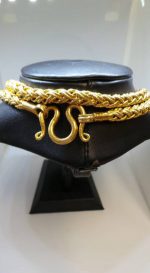 Gold Rope Chain: Valuation – $22,000; Loan – $10,000
'We are seeing  people coming in who would never have come to a pawnbroker in a million years,' says Kevin.
'They need quick finance and  they do it all the time – they have worked out it's a lot cheaper and a lot less aggravation to bring a diamond bracelet in, get $5,000 and get it back in a month following the completion of a business deal.
'If you went into a bank and asked to borrow $5,000 for one week or one month they'd just laugh at you. It's absolutely impossible.'
Although interest rates offered by most pawnbrokers are slightly painful, the loan agreement process is transparent and devoid of nasty surprises lurking in the small print.
ACCORDING TO DATA, 85 PER CENT OF LOANS ARE REDEEMED
This shows that people are happy using our service,
we see a lot of clients returning to use our service again.
Kevin is happy to dispel the myth that pawnbrokers actually want to keep the items that people pledge.
He makes it clear that there is zero financial benefit to having a vault stuffed with silver teapots that have to be either sold on, refurbished or in the case of unpopular items, melted down.
The sale of an asset is the worst-case scenario for a pawnbroker: 'We try everything to stop items being sold.
'It's a pain in the neck, and lost business. Example of a picture in which we took the auctioneer's advice that it was going to fetch $12,000. We lent $6,000.
'Come auction day nobody even made a bid, the auction house phoned up embarrassed.
We spent months trying to locate a buyer overseas, eventually it sold to a collector in Edinburgh at a figure less than we lent.'
PAYING FOR SPEED AND CONVENIENCE
It can be of course, a very expensive way to borrow money and only cost-effective over a short term. *1
Interest rates are negotiable (certainly for loans over $20,000 at Premier),a rate of 4.95%  per month that is in turn substantially less than taking a payday loan
The monthly interest on a loan of $5,000 is around 5.95 % per month, or $297.00
Keep the loan for 3 months and you'll end up paying Premier $892.00 in interest payments.
But what your paying for is the luxury of speed and convenience over the banks
COMPETING WITH THE BANKS
Kevin explains that the company is now competing with the banks
And Premier is like a private bank, with its office walls adorned with art and discreet and confidential meeting rooms
"you've never seen a pawnbrokers like us' Kevin says.
Banks have a stated intention of not wanting to deal with half of the NZ population – so people are looking for an alternative,' he says.
'Banks have not been clear, open and honest.
Dealing with a pawnbroker you know  how much it is going to cost right at the start.
'With an overdraft you never know how much you are going to pay until you have already paid it.
'If you change your mortgage it costs you $ – why? That's a rip-off. That's a bank making its money up front.
There is a pawnbroking ethos you can take into other forms of lending.'
DO BUSINESS'S SEEK PAWNBROKERS OUT AS AN ALTERNATIVE?
'Absolutely. We have recently arranged a loan to fund a business purchase. They brought the collateral in;  jewellery,
The client believes  in three months the business will produce enough money to be able to redeem their loan.
'The customer is financially savvy. They can put that jewellery to work for them – otherwise where would it be sitting?'
*1 Interest Rates vary from Pawnbroker to Pawnbroker