28 Jan

A BIRKIN BAG IN THE BOX IS WORTH A LIFETIME OF DEBT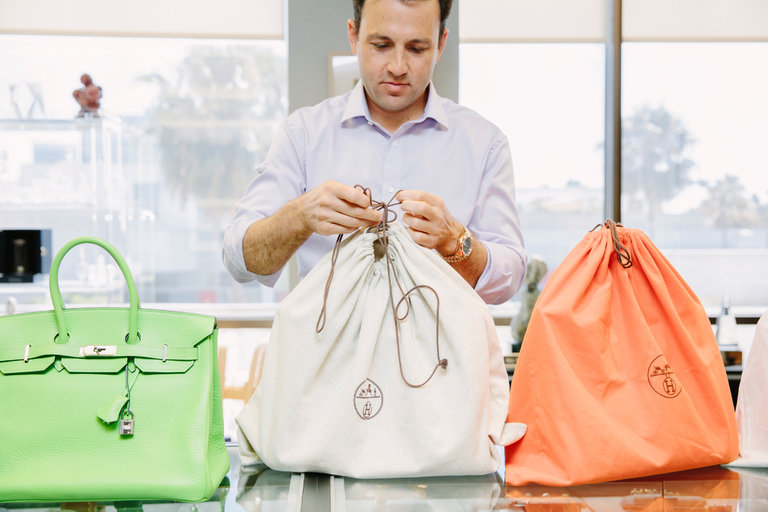 After she lost her job, Angela Rivers found herself in need of some quick cash. Instead of heading to her bank, she delved into her Brooklyn closet. An avid shoe and handbag collector, she took out her cherished chocolate brown Birkin and went across the river to Manhattan, where she had an appointment in the chaotic diamond district at a pawnshop called New York Loan Company.
Angela is not on her own, there are thousands of  woman all over New Zealand that need quick cash to pump into the business or for other personal reasons and don't have time to wait for the bank to make a decision, so there now utilising the services of high-end pawnbrokers such as Premier.
Pawn shops and pawnbrokers have had a stigma attached to them for many years, however this is changing, and if you walked into Premier's offices you would think you were entering a private bank as you pass through the marble lobby, before ascending the ornate stairs or elevator.
Inside the pawnshop, glittering vintage and new diamonds and other baubles are tastefully encased in glass, Rare paintings adourn the office walls.
Kevin Garner, the chief executive of Premier, picked the location because of its grand setting and high level of security.
Pawnshops, of course, aren't simply for selling goods for a quick buck. They also allow customers to use their valuables, including something like Ms. Rivers's Birkin, which is valued at several thousand dollars, as collateral in exchange for an on-the-spot loan. When a client pays back the loan, plus a redemption fee, the valuables are returned. If the loan is not repaid, the pawnshop can sell them to recoup the loan and redemption fee.
Mr. Garner said. "He modeled Premier on other high value pawnbrokers around the world such as Suttons & Robertsons (London) and Beverly Hills Pawn, (California)" Premier is a family owned business which we've operated since 2012, and were looking to expand to other NZ locations in 2019
One of the many items that come into our office are handbags, Louis Vuitton, Prada, Chanel and Jimmy Choo are just some of the designer names that we see.
Were finding clients are more likely to be businesspeople, "We get a lot of women in the financial community as well as men who bring in their wife's or significant other's handbags.
It's not uncommon for people to take their Birkins, or other valuables, in and out of the pawnshop, using them like a credit card, whether it's for an investment opportunity, for paying off business fees or simply because they are hard up for cash. "We pride ourselves on acting quickly".
"People often call and ask: 'What percentage can you pay on the retail of an Hermès handbag?'"
Condition is everything,  Does it come with a box? Does it have the dust bag? Does it have the clochette and the key? " all this is very important"
Also what colour is it? Some people like the staples —" the beiges, the browns, the blacks, yellow, chartreuse, purple — this is all very important" when your looking to borrow against it!
Premier, recently loaned against a Chanel Jumbo 2.55 shoulder bag with a value $8,031.00, we will loan against pristine Birkins and Kellys (the Birkin's little sister named for Grace Kelly). They are worth roughly $4,000 to as much as six figures for hard-to-find models, and have a high resale value. (According to a 2016 research study by baghunter.com, an online marketplace for high-end handbags, Birkins have gone up in value by 500 percent in the last 35 years — a figure that outpaced the price of gold.)
Marilyn Monroe once said "Diamonds are a Girls best friend"  we believe a designer handbag is not far behind.