12 Oct

LOANS AGAINST WATCHES

Secure A Loan Against My Watch?

We were able to help out a self-employed tradesman who found himself in an all too familiar situation, after he found out that we offer short term loans against watches. He has a small painting and decorating business. He does sub-contract work to a number of much larger firms. These large companies tend to pay on 60 days (or more if they can get away with it). Our client has a couple of employees who he pays weekly. Every job he works on he has to buy work materials up front.  He has enjoyed a great few years where the jobs have been getting bigger and better.

Loan Against Watch To Solve A Problem

Larger contracts and work has been secured by our client because of the quality of his work. It is all positive news…except for his cash-flow.  Jobs often soak up more and more capital. Often these jobs put stress on the business while he waits for payment. Sometimes the payment is long after completion of a job. It was really stretching him financially.  He approached Premier Asset Finance with this problem. We discussed his situation and how we can help him with providing loans against watches.

Secured Loan Against Watch – Audemars Piguet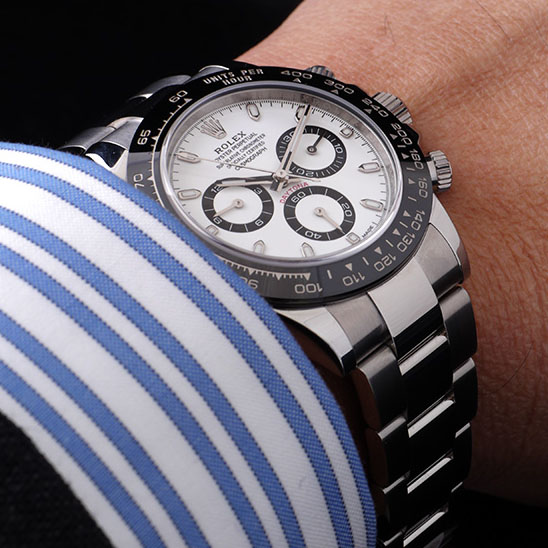 The chap is a real watch lover and his pride and joy is his Audemars Piguet –Royal Oak Offshore – a watch which was the realisation of a boyhood dream when he was able to buy it.  He keeps his watch in his safe, always immaculately clean and only ever used sparingly.  Premier Asset Finance were able to loan $8,000 against his watch (we were actually able to loan more, but he only needed $8000).  It meant that he couldn't wear his watch for the duration of the loan, but in his case, this was only for a 3 week period.
What Are The Advantages of Loans Against Watches?
The customer had his first loan against his watch in place on the same day he contacted Premier  Asset Finance. Giving an instant solution to the cash flow issue. This had been worrying him for weeks.  He had the confidence that Premier Asset Finance would store his watch in a safe and under  24-hour security for the entire time it was away from him.  He appreciated the loan against his watch.
All loans are handled discreetly and our service is completely confidential with no need for any affordability assessment or long drawn out credit checking process.
You do not need to have a Audemars Piguet to secure a loan with Premier Asset Finance.
Premier Asset Finance will consider and evaluate any item of value.
Funds Available on the Same Day
The same tradesman has now collected his watch and said that he found our service  to be incredibly helpful in managing his business finances. He has discreetly recommended us to a couple of his friends with similar business challenges.  We asked if he would write an anonymous testimonial. Please read about his experience of raising a loan against his watch with Premier Asset Finance.
See below our customer testimonial on a loan against watch.
Testimonial
"I contacted Premier Asset finance to raise money. Premier has helped me with my business's cash-flow. I used Premier after I had been let down by my bank.  I used my watch to secure a loan and the rate of interest was even better than I had expected.  This was the first time I used Premier to raise cash.  Kevin made it hassle free and I received the money straight away.
The rate to borrow money was a real surprise. I have heard horror stories about very high-interest rates which were definitely not the case with Premier.
5 star discreet service"